SUPPLEMENTS HEALTH LIFESTYLE
Subscribe for exclusive offers & promotions.
Testimonials
(INSPIRED DVST8 PRE WORKOUT)

I absolutely love this pre-workout! It gives me the extra "kick" I want but doesn't make me jittery. I notice a tingly sensation but I personally like that. I don't feel a crash after my workout either like some people claim to have after using other pre-workouts. I loveeee the California Gold flavor- it's super sweet. I actually tried one other flavor by inspired but switched back to Cali Gold because it's so good. I definitely recommend this product

Jessica L. Holland
(GOLDEN ERA 2LB CHOCOLATE PEANUT BUTTER)

Mixes really well by itself or in a shake! its perfect for me, low calorie and high in protein. I recommend to all athletes or just anyone trying to get a good clean protein. I'm buying the big tub next time!  

Sean Alvarez
(INSPIRED CR3 BEYOND CREATINE)

I've been taking the cr3 consistently now for 6 months, i love this product a lot. you can definitely tell the difference when you dont take it before a workout. Cool part about cr3 is it also had a pump product in it to increase blood flow, you also dont have to take on your days off which is a plus in my book.

Karl Taylor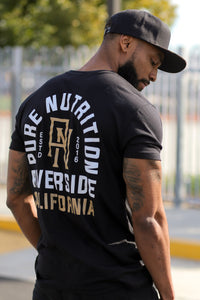 SETTING THE BAR SINCE 2016
OUR VISION
 Here at Pure Nutrition, we pride ourselves on offering only the highest quality, premium supplements the industry has to offer. With less than a 1% return rate, we are confident that we can find the perfect product for everyone that shops with us. With educational and athletic backgrounds, the team provides professional advice for everyone in the community. No sales gimmicks, no in-house branded supplements, just a game plan that matches its products in quality.